Rowena Gregory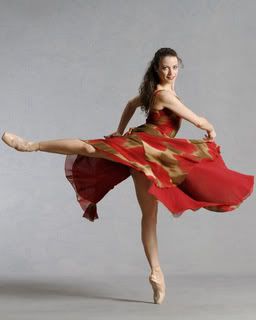 The daughter of a stock trader and a school teacher, once she rebelled against the Establishment, she never looked back. A product of her generation and the theater, Rowena is a laid back, free thinking, liberal. In another place and time, she would have been a gypsy or perhaps a hippie. The only place for strict discipline in her life was the ballet, and it has been her life since she was a child of three.
Rowena was dancing her first lead in The Firebird when she met the man who would be Carmen's father. Like all things in her life not the ballet, the relationship was a casual one. She saw him when she saw him, and there were no expectations for more. It was five years later during her run in Carmen that she discovered she was pregnant. She danced until her changing body threw off her center point, but she still traveled with the company assisting the choreographers in riding herd over the corps de ballet.
The baby's father was not just surprised to learn of his impending fatherhood when he found out; he was clearly shocked. Once he got over it, he made sure the pair would never want for anything. But it didn't change the relationship; she saw him when she saw him and Rowena was perfectly fine with that. More then that, she was relieved. She had some very clear ideas on how to raise her child, and she was glad he wasn't going to be around to interfere with them.
There was never a shortage of babysitters once Carmen was born and Rowena was able to return to the stage. Rowena believed that the world was a classroom well suited to teaching a person how to live -which was more important then merely making a living. Consequently she never bothered enrolling her child in any sort of public education system. Carmen learned math from musicians, reading from playbill designers, history from set designers, the facts of life in the dark places away from the flood lights, art from costumers, science from special effects engineers, social niceties from patrons, biting sarcasm from theater critics, and at the feet of stage hands she learned how to deal with tension by simply not. When they weren't on the road, Rowena and Carmen's loft became the gathering place for a colorful assortment of a wide sampling of the local Art and Theater community. She collected books like most girls collected dolls, and was never seen without a book for reading and a sketchpad. Carmen thrived, and as long as her child was happy, Rowena was satisfied.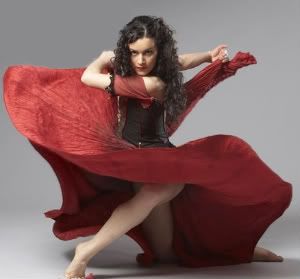 Rowena encouraged her daughter to dance, and Carmen danced in the corps a few seasons before admitting it wasn't for her. Carmen couldn't help but love the ballet, and her father's heritage meant she would be an excellent dancer. But while she wasn't afraid of work, she wasn't fond of pain, and her mother was the first to admit that a dancer's world was full of it.
It was that pain that eventually drove Rowena into retirement. Bad knees will only take so much abuse. Reluctantly heeding the advice of the Company doctor, she retired from the ballet and took her daughter back to the converted loft they lived in only 4 months out of a year perviously. While unable to dance full time, Rowena was still more then capable of teaching, and her days were soon filled with classes.
She knew Carmen missed the Company, and encouraged her to return to it if that's what she wanted. She didn't have to dance to work with them, as she already knew. With Rowena's support, what the then 17 year old Carmen did instead was pack up her supplies, get her passport and half her savings, and head off into the world as an itinerate artist.
When Carmen and a strange red-headed man turned up two years later, Rowena wasn't terribly surprised by anything but the timing. She wished her child well, told her to visit once in awhile, and never trust a redhead ("Notoriously unstable lot").
Though her dark hair is now starting to streak with silver, Rowena still teaches in the same place she started. Carmen visits often, and Rowena is always glad to see her. She approves of both Remington and the relationship, finds the Twins amusing, and jokes that Carmen's own rebellion has manifested as a decidedly domestic streak that might almost be approved of by her grandparents. She always laughs at Carmen's reaction.
---
page revision: 4, last edited: 10 Apr 2008 02:10